Absolutely Edibles has long been an Edmonton-based catering company, but their new Nait-stationed BBQ restaurant- Sloppy Hoggs Roed Hus enters the Edmonton culinary market with some interesting twists.
Restaurant type: Barbecue, greasy, meat sweats, southern, many flavours, huge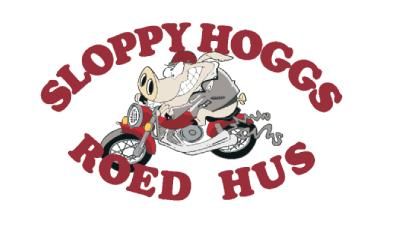 Honest flavour: 5/10 - I'm always game to check out new restaurants, and Sloppy Hoggs is right up my alley in that it's new, fresh, and a little crazy. I had the beef brisket sandwich and the 'give me the hogg slop' to start. The portion size for the fries was huge, and though I was initially excited for such a huge combination of flavours, I found no ingredient really stood out as an explosion of flavour. The gravy mixed with the cheese and the waffle sauce (similar to donair sauce) all had the same consistency, and I couldn't find a defining element in the dish. The fries were of the hollow, obviously frozen, completely tastless on their own variety, and I can understand why they decided to load them up with the entire kitchen. The pulled pork and bacon crumble was hardly detectable in the mess of flavours, and the whole plate tasted exactly how it looked - messy. The beef brisket was a step in the right direction; I opted for the mustard barbecue sauce by the recommendation of our server. I was pleasantly surprised with the sauce as it was sour and a little sweet; it complimented the beef nicely. The brisket itself was lean but retained a fair bit of it's moisture and the flavours were right. I also sampled the underwhelming pulled pork which was somewhat dry and lacking any depth. I expect pulled pork to be melt in your mouth, salty, and saucy, and unfortunately this pulled pork didn't fall into any of these categories.
Ingenuity of flavour: 6/10 - I'll honestly give Sloppy Hoggs points for trying here, but there were some serious missteps in quality that I wasn't expecting. It's hard to keep flavours clearly defined and create a cohesive dish when everything is a little bland, and I think this is where Sloppy Hoggs really misses the mark. I'll be the first to admit that I love an absolute cluster-fuck of flavours, but I get bored quickly when those flavours don't shine through and invite me to take another bite and try and find something new to enjoy.
Restaurant Vibe: 7/10 - The restaurant itself was comfortable and quiet during my visit. The dark, pub atmosphere lends itself well to the food being served, and the entire restaurant was clean and organized. The service was slightly more attentive than I prefer, but our waiter was upbeat and actually had suggestions for us which I applaud.
Overall Value: 6/10 - At $9.00 for my sandwich, I was expect more in terms of both quality and quantity. The brisket was good but not great, and if I hadn't opted for the starter, I would have surely been hungry. The hogg slop was big, but again, lacking the quality I was expecting. Had the flavours been more than just mediocre, maybe I would have been a little more excited for my money spent.
Final Thoughts: Meh. I can't think of a better term to describe Sloppy Hoggs than meh.The bottom line is that I went in with high hopes, but the quality just didn't deliver what I was expecting. I might come back to sample some of the ridiculous sandwiches towards the bottom of the menu, but I'll save my pulled pork obsession for Dadeo's when I feel like good food and bad service. More on that later…